This article explains how to get the best prepaid eSIM for France. You will learn how to know if your phone supports eSIM as well as the best ways to use dual SIM functionality when traveling abroad.
Disclosure: This site is sponsored by ads and affiliate programs. I may earn money from the companies mentioned in this post.
What's an eSIM?
eSIM stands for embedded SIM card. An eSIM is a virtual or digital SIM card that eliminates the need for a physical SIM card slot on your phone. A physical SIM card used to hold your phone network data, which is now stored on your device via an eSIM.
What's a dual-SIM phone?
A dual-SIM phone is a device with two physical SIM card slots. There is usually one single tray that can hold two SIM cards. A dual-SIM phone makes it possible to keep two phone lines without having to swap SIM cards in order to use one or the other.
What's dual SIM functionality?
You don't need a dual-SIM phone to achieve dual SIM functionality. Most devices only have one SIM card slot and one available eSIM. On the other end of the spectrum, the brand new iPhone 14 from Apple provides two eSIMs and no SIM card slot.
Is your phone eSIM compatible?
On your phone, dial *#06# to display your device information. This is what I get on my phone.



Look for an IMEI2 number which indicates dual SIM functionality. If there's one single physical SIM slot on your device, your phone is eSIM compatible.
What are the advantages of dual SIM functionality?
Dual SIM functionality basically means that you can have two phone numbers. As a traveler, tourist or future expat, you can save one SIM for your US phone account and use the second one for your local account.

You can also purchase one SIM for voice calls and text while you get unlimited data on your second SIM.

If you keep an American SIM card, turn off roaming charges on your US SIM card to avoid high fees when abroad.
What are the advantages of an eSIM?
The greatest advantage of an eSIM is how easy and fast it is to order and setup an eSIM. You can order and activate your eSIM online in a matter of hours. There is no more need to wait for a physical SIM card to arrive in the mail.

For Americans traveling to France, the #1 advantage of using an eSim over a regular SIM card is that getting a SIM card shipped to the US is not easy (but not impossible either, read Best French SIM card if you need a physical SIM card).
Are eSIMs better than physical SIMs?
Installing a SIM card is pretty easy and most of the time, you get it right at your first try. Flying regularly between the US and France, I had to switch SIM cards many times.

Managing to get your SIM card onto the tiny tray after a sleepless night on the plane with crying exhausted kids next to you can somehow become a challenge on its own. Sometimes, even trying to remember where you placed the paper clip you intended to use to open your SIM card slot can be problematic.

This is the reason why I think eSIMs are more convenient than physical SIM cards. And of course, let's not forget that eSIMs are a better choice for the environment.

How do you setup an eSIM?
Since you don't have to actually install a SIM card inside your device, you might be wondering how to set up your eSIM for France. This is easily done in 3 steps.

1- order online
2- get an email with a QR code
3- scan the QR code you received with your phone (you need internet access)

Done! The eSIM information is directly downloaded into a chip on your phone.
How do you activate an eSIM for France?
After you've scanned your QR code, your eSIM is activated as soon as you arrive in France. You cannot activate your eSIM from abroad.

If you need to scan your QR code upon arrival, take advantage of Paris Charles De Gaulle airport free wi-fi access.

The validity period of your eSIM starts as soon as your card is activated.
Do you get a French phone number with an eSIM?
Yes, a prepaid eSIM for France comes with a French phone number.
Is your phone ready for France?
Make sure your phone is GSM compatible and unlocked before purchasing an eSIM for France. You can read more about phone compatibility in Can you use a U.S. cell phone in France?
What's the best prepaid eSIM for France?
In France, eSIMs are slowly growing in popularity. Most French cell carriers now offer eSIMs for their regular contracts but prepaid eSIM cards are still pretty rare, unless you need a prepaid eSIM for data only.

I have selected two all inclusive eSIM plans for you from two of the main operators in France: Orange and Bouygues. Both plans are aimed at foreigners and are therefore in English.
Orange eSIM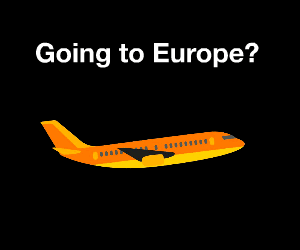 Orange offers 2 prepaid eSim plans.

1- Orange Holiday Europe 30GB for $49.90
2- Orange Holiday Zen 12GB for $29.90

Both plans provide unlimited phone calls and text within Europe as well as 30GB and 12GB data usage.The only differences between the Holiday plan and the Zen plan are the amount of data usage and the price.

If you need more time or data, you can easily recharge your eSIM from the Orange top up mobile online page. Your eSIM expires 14 days after activation so don't wait too long before adding more credit.

Orange eSIM plans allow limited calls and text outside Europe but I don't recommend using them for calls outside Europe. Use WhatsApp instead when you want to make calls outside Europe since it's free with an internet connection
Bouygues eSIM


My European SIM plan provides unlimited phone calls and text within Europe as well as 30GB data usage. This plan expires after 30 days.

You can extend My European SIM with Bouygues top-up plans.
You are now ready to get a French phone number! If you are considering a move to France, start preparing today with this Moving to France checklist.